Erasmus+ Programme
The department of International Relations and European Educational Programmes of the Athens University of Economics and Business (AUEB) was established in 1989.
Its main objectives, first and foremost, are to carry out European Union educational programs and to undertake the organization of participation in international student fora and exhibitions. Other objectives are to organize seminars, educational visits and cultural meetings, to promote the University activities abroad and to create new cooperation with foreign higher education institutions. Specifically the Erasmus office offers various facilities and it welcomes Erasmus incoming students, offers assistance in preparing their study programmes, as well as in social integration matters, and providing counseling not only to incoming, but also to outgoing students of Erasmus+/ECTS programme.
The University is member of the European University Association (EUA), of the Community of Mediterranean Universities (CUM), of the European Association for International Education (EAIE), etc. Furthermore, the Athens University of Economics and Business participates in the JEAN MONNET Programme which has financed the establishment of a European Chair in Economics, another one in Law, a European Permanent Course in Political Science, etc.
In the context of the Erasmus+ Programme, AUEB has more than 220 interinstitutional agreements with universities throughout Europe. Student and staff mobility is based on these bilateral agreements.
More than 7000 students have participated so far in the Erasmus Programme at AUEB. From 1989 up to now approximately 4000 students have attended courses at EU partner institutions while approx. 3000 were welcomed to our university and took courses in English for one semester or one full academic year.
Comments from incoming Erasmus students
Students wishing to participate in Erasmus at AUEB should contact the Erasmus Office of our partner institutions and apply for this mobility. If they are selected by their home institution, they have to take into account the information provided here below and fill in all necessary forms, according to the relevant instructions. It is noticed that they should submit also an official proof of knowledge of English language.
Contact person:
Mrs Katerina Galanaki
Head of International Relations
Erasmus-ECTS/DS Institutional Coordinator
Athens University of Economics and Business
76, Patission Street
Athens 104 34
HELLAS
Email: galanaki@aueb.gr
Telephone: +30 210-8203 250
Fax: +30 210-8228 419
---
Survival Guide for Incoming Erasmus Students
---
Welcome to ESN Athens AUEB!
---
The deadline for winter semester registration, spring semester registration or registration for the full academic year 2016-2017 is mid-July, 2016.
---
---
Useful Links
---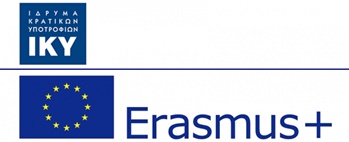 The European Commission support for the production of this publication does not constitute an endorsement of the contents which reflects the views only of the authors, and the Commission cannot be held responsible for any use which may be made of the information contained therein.